Using excellent race craft, Rins planned a victory charge for the last few laps, before executing a great pass on Rossi to lead. Alex remained calm under pressure from the 9-time champion to earn his first ever MotoGP win.
Joan Mir, meanwhile, was feeling ready for the race after a positive morning warm-up session, but the rookie unfortunately jumped the start and was forced to complete a ride-through penalty whilst running in 13th place. Joan used the remainder of the race to learn and become further acquainted with his GSX-RR, finishing the GP in 17th place.
Today's victory marks Team SUZUKI ECSTAR's first win since Silverstone 2016, and Alex Rins' first win since Le Mans 2016, as well as being his debut MotoGP top step.
Ken Kawauchi - Technical Manager
"It was a great race. Our bike and Alex have both grown a lot in recent months, and we were finally able to show the results of these improvements. Joan made a small mistake today but he paid a big price. We're looking forward to the next races with him because he's learning fast. I want to thank Alex, the whole team, and everyone who is involved with this project on site and in Japan - today is a very happy day for Suzuki."
Davide Brivio - Team Manager
"Today we are so happy - so pleased for the factory back in Japan and for all the team staff, because everybody has worked so hard. It's wonderful for Alex, this is further proof of the way he's matured and improved. When he began with us he suffered a lot with injuries, and since then he has worked so hard and this achievement is something he really deserves. Now I can say that our target this season was victory, and we've done it at the third race. Thanks to all the Suzuki staff and Alex. Joan had amazing pace today but unfortunately he jump-started and the penalty cost him a lot, we already talked a lot about this; but finally he has made another important step this weekend. I'm happy about his improvements."
Alex Rins
"It's incredible! I'm very happy to win the race here! In warm-up this morning we tried a different set-up and it didn't work in the way we expected, so we reverted to the usual settings for the race and we won, it's super! I'm lost for words! I managed the pressure well, even though I suffered a bit in the last laps. When I crossed the line all the feelings hit me at once. I just want to say a big thank you to all my team, everyone in Japan, and all the people around me!"
Joan Mir
"I'm quite disappointed about the jump start, the footage shows that I moved a fraction before the lights, but I didn't gain anything from it. Nevertheless the penalty is a ride-through. Without this I could have had a strong result so it's a real shame, but anyway, I'm happy with my pace and my feeling with the bike - both were good this weekend. I want to congratulate Alex because he did an amazing job! All the team will continue working to be even more competitive."
Want to know speed like Alex Rins, Checkout the hot supersports offers that are sure to knock your socks off! Click below to learn more or visit TeamMoto Suzuki Virginia today!
2017 Suzuki GSX-R1000R
Was $27,345
Now $22,990
The top-spec GSX-R1000R is equipped with the latest SHOWA BFF(Balance Free Front) forks and SHOWA BFRC lite (Balance Free Rear Cushion lite) rear shock, bi-directional quickshifter, racing launch control, LED position lights, lightweight battery and a unquie black LCD instrument panel display letting you know you're sitting aboard something truly special.
2017 Suzuki GSX-R1000
Was $23,750
Now $18,990
It has been three decades and more than a million sold since the GSX-R line was born. A decade and a half since the first GSX-R1000 (K1) changed the open sportsbike class forever. Now, the 6th-generation GSX-R1000 is redefining the definition of "Superbike". It embodies the life work and ambition of Suzuki engineers who are passionate about the GSX-R brand.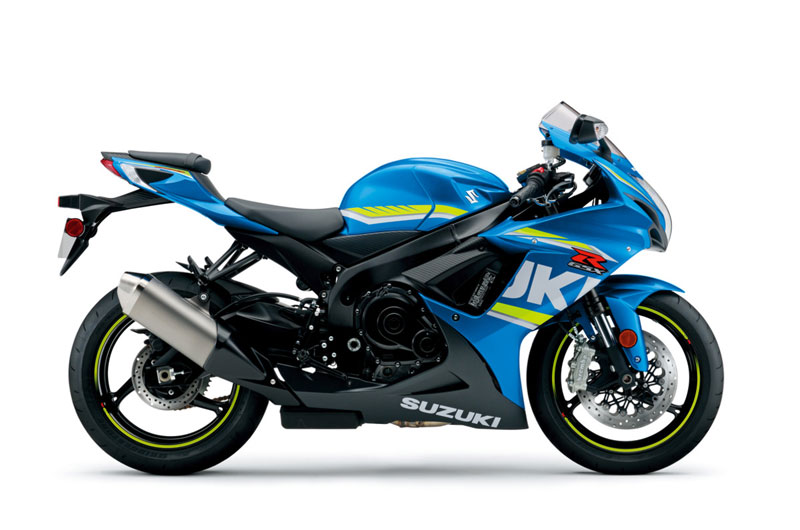 2018 Suzuki GSX-R600
Was $16,526
Now $12,990
The 2018 Suzuki GSX-R600 is a class-leading sport bike worthy of its race-winning GSX-R heritage. Whether you're carving through your favorite twisty road or dominating the racetrack, it offers unparalleled performance. A compact, powerful 4-cylinder engine demonstrates the advanced race-proven technology of the GSX-R line when you hit the throttle and push it to redline, while supremely refined suspension systems front and rear help provide precise, responsive handling.